IMPLEMENTING OUTREACH, EMPOWERMENT, DIVERSITY. For the successful integration of migrants to a new country it is imperative that they are provided sufficient learning and work opportunities. When it comes to migrant adults, it's normally about continuing the learning pathway, not starting from scratch. It means that they also need the proper guidance to find and take advantage of the learning opportunities available. What else is needed for a successful learning path of a migrant?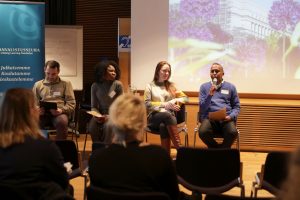 "To engage in learning and find work one's own activity is necessary, at the same time, adequate guidance is needed. I, for example, have only met once the official from the employment agency during the two years I've lived here. Otherwise we've only been communicating via email or telephone," Bassam Arslan, a migrant from Palestine told about his experience.
Kansanvalistusseura (KVS – the Finnish Lifelong Learning Foundation) held a discussion in Helsinki on the 24th of March. At the event, migrants living in Finland shared their experiences on the Finnish educational system for migrants and the integration policy.
Anastassia Bychenkova, an Estonian entrepreneur in the beauty industry pointed out that studying in adult education centres and folk high schools is often of low cost and flexible. At the same time, the different backgrounds of the newcomers affect their ability to find learning opportunities or jobs.
"For example for someone coming from a country struggling with a civil war, the first thing in their mind is not studying. They are mainly concerned of their safety and surviving in everyday life. Educational backgrounds also vary among the migrants," Abdulrahman Rage reminded the audience. He comes from Somalia and works as a nurse in a Finnish hospital.
For mothers caring for small children at home, the ability to participate in learning is especially challenging. Junias Kanyinda, who moved from Kongo to Finland in 2007 and who is currently completing an apprenticeship training, has experience of these challenges.
"For me it helped when I found a community centre for migrants in Tikkurila [a residential area in Vantaa, a city close to Helsinki], called "Silkinportti". It was a place where I could bring the baby with me. They organised activities, such as cooking together with other mothers. I also had a chance to meet up and talk with people."
The panellists also pointed out that the negative attitudes of locals in everyday life and workplaces can affect the ability of migrants to learn the language and to integrate. Many of the panellists had experience of the unwillingness of the Finnish people to start a conversation or otherwise approach them, probably due to the fact of them being migrants.
"Even if it wasn't due to racism, many people think that they don't have the time to discuss with someone who doesn't speak so fluent Finnish. For a person to feel that they are part of a community, opportunities of talking to the locals are needed, Junias Kanyinda concluded.
Non-formal adult education sector as a major language educator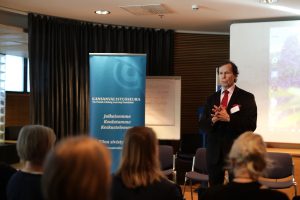 Non-formal adult education sector in Finland has been a prominent provider of education to migrants in the recent years. Nearly 60 000 migrants study yearly in education targeting migrants, such as integration education, in "independent" courses, in basic education or in training to promote employment. The Chair of the Finnish Adult Education Association Aaro Harju said non-formal adult education centres and folk high schools are well equipped for migrant education.
"In the non-formal adult education sector we have a highly competent personnel with a long experience in migrant education. The studies are easily tailor-made according to the needs of the learners. Additionally, some learning centres work as boarding schools which can work as a great tool for integration, as the students get to accommodate and learn together with Finnish youth or adults."
The Ministry of Education and Culture of Finland recently published a report that presents several actions to support the integration of migrants. Jyrki Ijäs, the Secretary-General of the Finnish Folk High School Association, is a member of the working group that published the report.
He reminded the audience that it is not until quite recently when Finland has become a country of immigration, from being a country of emigration. According to studies, the educational background of migrants coming to Finland is fairly strong, with rather high levels of education. Most of the migrants hold at least basic education level studies and many also have had vocational training.
"The challenge is, how the Finnish education system receives new learners and how they can fluently proceed from one learning path to the next," Ijäs said.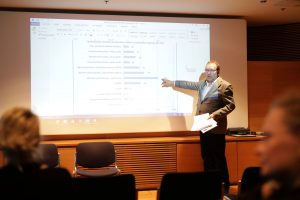 The report includes a recommendation to augment the subsidy indicated to migrant education so that the studies provided as part of the integration education in the non-formal adult education sector would be 100 % compensated and thus the participants wouldn't need to pay course fees.
In addition, the report suggests that migrant mothers with small children would be offered child care services so that they would be able to participate in language training. Jyrki Ijäs calls for a change in attitudes and perspectives when it comes to integration education. Language training should, for example, be made possible to study flexibly attached to other learning or work.
"Besides creating learning pathways for integration, it is essential to build pathways for lifelong learning," Ijäs summarized.
KVS organised two events in February and March concerning the streamlining of migrants' learning paths, as part of the implOED project.
Text: Helka Repo
Photos: Karoliina Knuuti