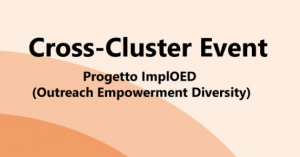 IMPLEMENTING OUTREACH, EMPOWERMENT, DIVERSITY. Trainers of regional and national organisations engaged in lifelong learning in Naples gathered to discuss strategies for greater involvement of migrant adults in language learning, intercultural exchange and active citizenship.
The meeting held in May was attended by trainers of organisations CIDIS, CARITAS, DEDALUS, ARCI CASERTA and SOLIDARCI. The idea was to improve the involvement of migrant adults in Learning activities in the region. The in-depth topics were: How do you cross the Adult migrants' educational needs with their strengths? How to transform the training into an attractive and engaging proposal for
Adult migrants? What are the best strategies in order to enhance adult migrants' education?
The event enabled the participants to make new contacts in terms of working for the learning offers for migrant adults. The OED messages were also received well: many participants said they would support the dissemination of the messages. The activity allowed the participants to share ideas and experience, that created the need to meet soon again to address issues related to lifelong learning of migrant adults, both as a process for the acquisition of L2 and as pathways non-formal to foster cultural exchange and active citizenship of migrant citizens.
The participants were very involved in the exchange of information and contacts. Participants expressed the importance of working together and meeting others working in the same field. The fact that the key actors did not know each other and never had a meeting prior to our round table was eye-opening.
Text and photo: Giovanna Maciariello, Paola Maciariello