IMPLEMENTING OUTREACH, EMPOWERMENT, DIVERSITY. DAFNI KEK in cooperation with Cafe Gefires – the social cooperative of people with mental health disabilities – organised an open week of information and a webinar to introduce the main concepts of outreach, empowerment and diversity to people working with the Roma, refugees, migrants and people with mental health issues as well as volunteers and educators working with disadvantaged groups.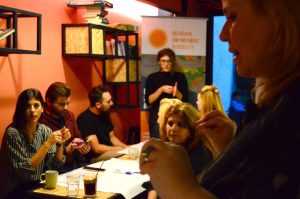 The main goal of the events organised was to provide people interested in working with the concepts of reaching out to disadvantaged learners with a list of expected outcomes based on the OED project results. The OED Guidelines for adult education practitioners translated into Greek served as a tool.
"We wanted to discuss how learners and workers can actually implement the good practices that set the main principles of the project, them being outreach, empowerment, diversity and active citizenship. The best way to present and discussed them during the week and the workshop was through the OED Guidelines," says Angeliki Giannakopoulou from DAFNI KEK.
Cafe Gefyres was selected as a partner for the events based on the work they do. In Cafe Gefyres people with mental disabilities work in an environment of social cooperative together with volunteers with or without mental health problems, homeless people, social workers, formerly long-term unemployed and with volunteers.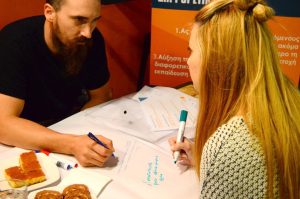 "People have a lot of problems, obstacles to come out of their house, to talk about their problems – especially to identify what are their barriers," said one of the workshop visitors.
Although keen to try out new methods and ways of practice the participants also pointed out that among their target groups specified cultural and social dependencies might hinder the possibilities to apply the methods in practice.
"Yet their enthusiasm on discussing the matters and difficulties that they meet working with vulnerable groups on an everyday basis was really thought provoking and lively," says Angeliki Giannakopoulou.
DAFNI KEK also invited local educators from the broader educational field to reflect on the OED practices.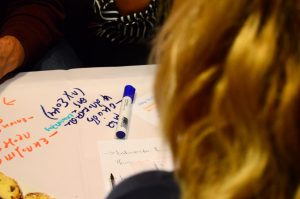 "We invited them to identify their further training needs in the topic of empowerment the hard to reach learners and the diversity of the learners needs, too," says Angeliki Giannakopoulou.
In addition, an e-learning course around the OED Guidelines for trainers and management staff has been created.
"The main reason for this course is to engage the trainers and workers of the field on working and exploring good practices, discussing in the forum of the course and organizing virtual or face to face meetings to further communicated their thoughts on the matters. We see this action as a way of a follow-up activation of our participants," Angeliki Giannakopoulou explains.
Text and photos: DAFNI KEK